8 Best Places to Earn Interest on Stablecoins in 2022
Cryptocurrencies are notorious for their volatility, but stablecoins provide steady returns without the wild price swings. Several places now offer interest on stablecoins, but not all of them are safe or trustworthy. We took a look at the most popular ones. Here's what we found out.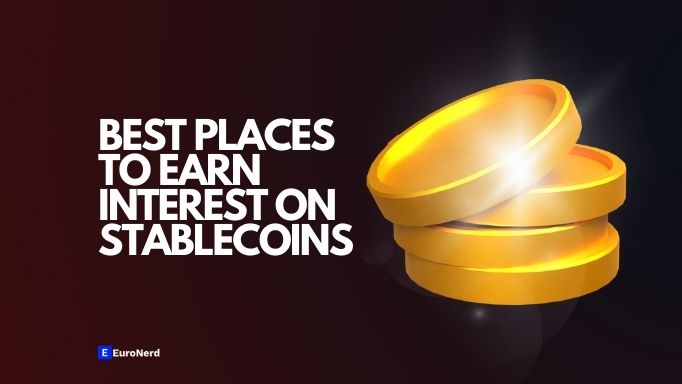 Let's face it. Traditional banks don't have a great reputation for offering the best rates on savings accounts. If you want your money to work for you, it will behoove you to expand your horizons.
If you're a cryptocurrency investor with intentions to hodl for an extended period of time, you now have options to earn interest on your digital assets, much like you would with a traditional savings account. The critical difference between the two is that you can earn anywhere from 8.6% to 12% from a crypto savings account; traditional saving accounts come nowhere near this rate.
That said, not everyone is fond of the wild market fluctuations commonly associated with crypto investments. That's where stablecoins factor into the equation.
What is a stablecoin savings account?
A stablecoin savings account is a crypto company's service that allows you to earn interest on the stablecoins you hold in your account. It's similar to a traditional savings account where you're offered a fixed interest rate on the money you've deposited.
The basic principles of a crypto interest account and a regular savings account are similar: You deposit crypto, and the platform finds another customer that wants to borrow crypto. But unlike conventional accounts, your funds are denominated in stablecoins like Tether (USDT) or USD Coin (USDC).
The main difference is that the interest rates offered on a stablecoins savings account are much higher than those on a traditional savings account. The most important caveat is that cryptocurrencies aren't backed by any government as a guarantee against loss or theft. However, some platforms have implemented private insurance.
Comparison of rates from the best stablecoin interest accounts
To provide a better overview, here's a direct comparison of the top savings accounts to earn interest on stablecoins. It's important to consider more than just the highest interest rates. Think about whether you trust the company behind the platform with your money and go with the provider you are most comfortable with.
| Stablecoin | BlockFi | Crypto.com | Gemini | Hodlnaut | Ledn | Nexo | YouHodler |
| --- | --- | --- | --- | --- | --- | --- | --- |
| Binance USD (BUSD) | 9% | | | | | | 10% |
| Dai (DAI) | 9% | 6% | 5.4% | 8% | | 10% | |
| EURS or EURX | | | | | | 10% | 12% |
| Gemini Dollar (GUSD) | 9% | | 8.05% | | | | |
| Paxos Standard (PAX) | 9% | 6% | | | | | 12% |
| TrueAUD (TAUD) | | 6% | | | | | |
| TrueCAD (TCAD) | | 6% | | | | | |
| TrueGBP (TGBP) or GBPX | | 6% | | | | 10% | |
| TrueHKD (THKD) | | | | | | | |
| TrueUSD (TUSD) | | 6% | | | | 10% | 12% |
| Tether (USDT) | 9.5% | 6% | | 12% | | 10% | 12.3% |
| USD Coin (USDC) | 9% | 6% | 7.99% | 12% | 9.5% | | 12% |
Details: Availability and best rates
The table shows the highest earn-in-kind (paid in the currency you deposit) interest rates for flexible terms (i.e., no lock-up periods), which have no restrictions on when you can withdraw.
Some platforms offer higher rates if you lock your assets for 1 to 3 months, earn in the company's own cryptocurrency, or deposit within promotional periods. Some lenders have tiers that restrict how much you may earn. For example, say you deposit 20,000 USDC, then you will receive the best rates on that amount, while anything above that will earn a lower rate.
Reviewing the best platforms to earn interest on stablecoins
Earning interest on your crypto shouldn't have to be a chore. With so many choices out there, it can be confusing or intimidating to choose the right platform. Let's look at a curated list of six trusted platforms where you can earn interest on stablecoins.
1. BlockFi
BlockFi is arguably one of the more popular options on this list. Founded in 2017, BlockFi is a provider of cryptocurrency savings accounts, exchange services, and loans.
Pros
Fully regulated
High interest on all deposits
Compound interest
Funds are stored at Gemini
Savings plan is flexible
Cons
Number of coins available are limited
Lower rates than some of their competitors
Key features
BlockFi interest accounts offer investors the ability to earn compound interest annually on their crypto savings. Account-holders can also exchange a range of coins and borrow cash against crypto. Additionally, BlockFi has launched their own cashback credit card allowing users to earn bitcoin with each purchase.
New users get a free sign-up bonus worth up to $250 in bitcoin. Signing up for BlockFI is entirely free, allowing anyone to test the service out before fully committing to the platform. BlockFi requires zero minimum balances or deposits and does not charge monthly/annual fees. They also offer one free stablecoin withdrawal and one free crypto withdrawal each month.
2. Ledn
Ledn is one of the more low-key crypto interest platforms, perhaps owing to their emphasis on quality rather than the mass acquisition of users. It's great that Ledn doesn't use any marketing ploys and only deals in BTC and USDC. While this may be a step backward for those lured into chasing the newest altcoins, those who believe in bitcoin's origins as the mother of all crypto will appreciate the emphasis on simplicity.
Pros
The world's largest digital asset lender, Genesis Capital, is the institutional borrower of almost all deposits made into Ledn's crypto savings accounts. Ledn generates interest by loaning bitcoin to Genesis, who lends it to trading firms against over-collateralization and interest repayments.
Ledn is one of the few companies that audit and provide proof of customers' funds. They collaborate with Armanino LLP, a top-25 accounting firm based in the United States, to frequently publish the proof of reserves. All users can check their proof of funds in the platform's dashboard. Those interested in learning more can read the complete reports from Armanino here.
Adam Reeds and Mauricio Bartolomeo, friends and founders of Ledn, both seem like genuine people based on the content of their YouTube interviews (here's one about their story) and media appearances. They're open about the business and seem motivated by a genuine interest in helping the industry grow rather than pure VC greed.
There is no minimum balance requirement, and your money isn't locked in, so you can withdraw it at any time.
Ledn is old-school cool. The interface is simple, and they offer just two coins, BTC and USDC. You give them those coins, and they pay interest on the money – that's it. They don't run a complex trading desk or anything like that; they just do the basics very well. They're not giving you any fancy coins that will be shut down by the Securities and Exchange Commission any minute, but they're also not dangling bright shiny objects in front of your face.
Cons
Although it's one of the most reliable platforms out there, Ledn is still a relatively anonymous firm. Ledn uses an Ontario LP structure, a privacy-centric partnership, but it's unclear who serves as partners of the company. This is merely a European observation because there is no privacy left in the EU, and everything is made public. It would be reasonable to assume the founders remain in control of the company. Ledn also has significant venture capital firms investing in it, and there's no doubt they've done extensive research on the company as a whole before putting their money into it.
The UX is poor. The mobile app is simply a replica of the website. It seems no effort was made to create a native app for the cryptocurrency interest platform. The web app is better, but the design doesn't exactly win any awards.
There are no fiat gateways to deposit funds into Ledn. Suppose you want to make regular investments into the supported cryptocurrencies. In that case, you need to go through an intermediary like an exchange. This increases the number of transactions you'll need to keep track of and incurs a withdrawal fee from your exchange.
3. Gemini
Located only in the United States, Gemini is a simple, elegant, and secure platform to build your crypto portfolio. By utilizing the Gemini platform, you can buy and sell a range of crypto and stablecoins. That said, Gemini brings its own stablecoin to the table, the Gemini Dollar (GUSD).
Important: The Gemini platform is available worldwide, but Gemini Earn is currently only available in the U.S., Singapore, and Hong Kong. However, more jurisdictions are expected to be added.
Pros
Good security, regulation, and safety
Undergoes monthly audits
The Gemini dollar is backed 1:1 by the US dollar (USD)
Users are insured up to $250,000
Cons
Only works in the US, Singapore, and Hong Kong

Monthly APY isn't as high as competitors
Key features
Gemini offers slightly lower rates but significantly better security and other benefits such as free crypto withdrawals. It should be noted that Gemini is on the higher side concerning trading commissions. However, its reputation for excellent security, regulation, and safety may very well justify the price.
The Gemini dollar is a 1:1 USD-backed stablecoin. Each user is insured up to $250,000, providing the same level of insurance you would come to expect from a brick-and-mortar bank. Audits are conducted every month to reassure their userbase of the validity of the platform. These audits can be found on the Gemini website.
Users also can sign up on a waiting list for the Gemini credit card, which offers up to 3% back on purchases, allows users to earn rewards in bitcoin or any crypto on Gemini, and zero annual fees.
4. Nexo
Nexo has been around since 2018 and is very popular among the crypto-lending community. The company claims $12B+ worth of assets under management and 3M users in 200 countries. Like Ledn, Nexo partners with the accounting firm Armanino to provide proof of funders. It also boasts a BitGo and Ledger-backed insurance pool totaling up to $375 million.
Pros
Nexo offers some of the highest interest rates on stablecoins and cryptocurrencies. Aside from USD coins, it also supports EUR and GBP-pegged stablecoins such as EURX and GBPX. But there is no support for HKD or SGD-based ones. High rates are a superficial measurement, but it's nonetheless an essential factor for many users.
Nexo has maintained stable relations with the same banks and payment processors for years now. It's one of the few crypto interest platforms with fiat gateways for USD, EUR, and GBP. Crypto platforms are vetted to the extent that one bad incident might result in them being blacklisted by their banking partners. Nexo has managed to dodge this bullet, suggesting it has been playing nicely with regulations and customers' funds.
Nexo's smart contract is available on GitHub, so those with coding experience can review its inner workings.
In terms of keeping up with U.S. and global regulators, Nexo seems to be doing most things right. While an annoyance for the users affected, Nexo blocks problematic jurisdictions such as the U.S. state of New York. It has money transmitter licenses for most of the U.S. and is registered in Canada, Switzerland, Estonia, Lithuania, Hong Kong, and Australia.
Cons
Nexo's Loyalty Program benefits users who hold 1% to 5% of their portfolio in the company's native token, NEXO. This includes increased interest rates on savings and better loan rates for borrowers.
The NEXO token is a centralized ERC20 utility token running on the Ethereum network. It's difficult to identify the true purpose of NEXO tokens aside from rewarding large holders.
Like every other cryptocurrency firm in 2018, Nexo began with an ICO. It initially financed its lending business with the proceeds from that sale. It still keeps a reserve of tokens that it sells on the market to maintain its liquidity.
The Nexo card has been a promise since 2018, but it never seems to launch properly. The site portrays the card as having already been issued, which is deceptive because it's only available to a small group of EU and UK residents.
6. Crypto.com
In 2017, the cryptocurrency exchange Crypto.com was founded as Monaco in Switzerland and Hong Kong. It initially failed to deliver on several key promises but rose from the ashes in 2018 and released a suite of popular products. This included a cryptocurrency prepaid debit card and mobile app, and later the exchange, NFT marketplace, and other features.
Pros
1% to 8% cashback on spending with Crypto.com's Visa cards, their flagship product. This offer is hard to beat, and no other provider currently matches it. The cashback is paid in CRO but can be traded for fiat. Other perks include monthly reimbursement of Spotify, Nextflix, and other subscriptions, complimentary airport lounge access, and free currency exchange with no mark-ups.
The company's finances seem to be more than in order. Crypto.com is estimated to have spent over $1B on marketing in 2021 alone. It acquired the naming rights for the famous Los Angeles Staples Center (rebranding it to the "Crypto.com Arena." It has also run advertisements and secured partnerships with several famous Hollywood actors.
Most aspects of Crypto.com have shown significant growth. In 2021, the number of employees increased from 250 to over 3,000, registered users increased to 10 million, and in 2022 the exchange has jumped into the largest top five globally.
Their global partnership with Visa has been going on since 2018. Visa has an army of lawyers and compliance personnel that would have thoroughly examined Crypto.com better than any layperson could.
Crypto.com was hacked in 2022. The intruders took off with $30 million worth of ethereum and bitcoin. This doesn't exactly sound like a positive thing. However, the affected users were compensated in full for their loss via insurance coverage. This shows that the company is willing to go all out when protecting its customers.
Cons
Everything on Crypto.com evolves around the company's CRO utility token. Better interest rates, more cashback with card spending, lower trading fees, and other incentives are only available for those who own and use CRO. Like the CEL and NEXO tokens, it's difficult to see the actual utility in CRO aside from it rewarding its largest holders.
The best rates require users to bind their funds for 3 months and stake a certain amount of CRO tokens. It's impossible to withdraw funds before the end of the term, which can be a problem if an emergency event arises or the locked token falls significantly in value.
Crypto.com is not clear about how it makes money from deposits into the interest accounts. It's unknown whether the company runs a lending business or sources liquidity to third parties like other platforms. We can only speculate that it at least uses it for market-making.
7. YouHodler
YouHodler is a crypto asset management platform located only in Europe. This platform has a lot to offer anyone looking for a high APY on their stablecoin investments. It's also an excellent choice for individuals interested in converting between many types of fiat currencies, stablcoins, and cryptocurrencies.
Pros
Payouts occur at weekly intervals
No lock-up period
Supports 25 tokens and coins
12% interest on stablecoins
Cons
No availability in the United States
YouHoldler is a startup company
Key features
YouHoldler offers crypto savings accounts with high compound interest up to a very generous 12% in addition to crypto-fiat loans with high loan to value ratios up to 90%.
One of the significant features of this platform is that you can convert between various fiat currencies, stablecoins, and cryptocurrencies directly on their intuitive mobile app or web portal. The YouHodler platform supports CHF, EUR, USD, and GBP and supports bank and card transfers.
Interest accumulated in your crypto savings account is paid out weekly, and the interest period, which occurs every week, starts compounding the moment funds hit your savings account.
In total, YouHoldler offers 25 cryptocurrencies and stablecoins that earn interest for account holders. Investors of the platform can freely sell or withdraw assets as they please at any time. Furthermore, YouHodler doesn't have any lock-up periods.
8. Hodlnaut
Based in Singapore, Hodlnaut is a crypto lending and borrowing platform that allows users to earn up to a respectable 10.5% APY on their crypto. The name isn't just a clever play on words. The mission of Hodlnaut is to help individuals who wish to HODL their crypto assets to make the most of their investments.
Pros
Weekly payouts
Funds can be withdrawn at any point
No lock-in period
The highest interest rates for Bitcoin
Cons
Only supports five cryptocurrencies
Limited product selection
Withdrawals are manually processed
Key features
The Hodlnaut platform is relatively easy to use from a glance, making it beginner-friendly. A 10.5% return on stablecoins may not be as high as some competitors. However, it's still a very lucrative way to put your coins to work to generate a passive income.
Hodlnaut charges its users a small withdrawal fee. They have a referral program that allows users to get a 10% commission from interest earned for each successful referral.
Hodlnaut is the ideal platform for borrowers interested in gaining a credit line by putting up their cryptocurrency as collateral. Their rates are highly competitive when compared to the rest of the industry.
What are stablecoins?
Stablecoins are a type of cryptocurrency whose value is typically linked to an underlying asset such as gold or fiat currency to stabilize the price.
Stablecoins can be an excellent option for investors interested in learning more about cryptocurrency but who worry about volatility shaking up their investment.
While bitcoin and ethereum stand as go-to investments for more risk-willing crypto investors, volatile price swings often make them an unappealing choice for the uninitiated.
Stablecoins attempt to tackle price fluctuations by tying the value of cryptocurrencies, like USDC, to more stable assets like the US dollar or British pound. Typically, reserves are set in place in a real bank to secure the asset backing the stablecoin.
For instance, USDC by Circle and Coinbase is a fully collateralized stablecoin backed by cash and cash-equivalents, as well as short-term U.S. Treasury securities, ensuring that it can always be redeemed for dollars in equal value.
How do stablecoins work?
Stablecoins fall into a few different categories, each of which uses a distinct method to peg its units. The following are some of the most prevalent types of stablecoin.
Fiat-backed stablecoins: The most popular form of stablecoin is directly backed by fiat currency and has a 1:1 ratio. These are also known as fiat-collateralized stablecoins. Fiat-backed stablecoins are widely considered the least risky because a central party keeps an equivalent quantity of fiat money or fiat-equivalent assets (such as government bonds) in a bank to back the stablecoin.
Crypto-backed stablecoins: Stablecoins that are backed by cryptocurrencies, unlike their fiat-backed counterparts, use cryptocurrency as collateral. Stablecoins backed by cryptocurrencies are said to be more faithful to the original principles of distributed ledger technology since they are trustless and decentralized. The monetary policy is set by network participants who vote on any changes, and the issuance of these coins is controlled by smart contracts. Unlike fiat-backed stablecoins, crypto-backed coins do not rely on a central authority and operate as decentralized.
Algorithmic stablecoins: Algorithmic stablecoins are a newer form of stablecoin that isn't backed by fiat or cryptocurrency. Instead, the value is maintained by algorithms and smart contracts that regulate the supply of tokens created. The algorithm will typically issue more tokens when the price of the stablecoins increases to create inflation or conversely initiate a buy-back program when the price falls to deflate supply. Their monetary policy is similar to that employed by central banks to manage national currencies.
Examples of fiat-based stablecoins
USD stablecoins track the value of the de facto currency of the financial markets, the United States dollar. Tether (USDT) and USD Coin are the two most well-known stablecoins, and their value is pegged closely to one US dollar. The number of USD stablecoins keeps increasing across different blockchains.
EUR stablecoins are much less frequent because most monetary transactions in the crypto world are made in US dollars. However, projects like EURS have become popular among European cryptocurrency enthusiasts looking to avoid currency risks associated with fluctuating exchange rates.
GBP stablecoins are, as the name implies, pegged to the value of Great Britain's currency. TrueGBP by TrustToken is the most popular, and it's pegged 1:1 with the British pound.
A brief history: Who invented stablecoins?
Stablecoins originated from several different initiatives, but a few independent projects conceived the fundamental concept of fiat-based stablecoin in 2014.
BitUSD, which never took off, was created by the BitShares community in 2014. The invention of BitUSD is credited to Daniel Larimer (EOS) and Charles Hoskinson (Cardano). They are both prominent cryptocurrency industry movers and shakers today. For the nerds out there, here's a link to Dan Larimer's original 2013 YouTube video presentation of BitShares.
Tether, the most well-known USD-pegged stablecoin today, was launched as "Realcoin" by Brock Pierce, Reeve Collins, and Craig Sellars in 2014. Realcoin was designed to "put dollars on the blockchain." It first ran on top of Bitcoin's blockchain protocol and promised "100% reserve". Tether Limited, the British Virgin Islands firm behind the stablecoin, has never provided evidence of their claim that it is fully backed and has been under considerable scrutiny. A complete history of the controversy surrounding Tether can be found here.
USDC was launched in September 2016 and has gained ground as the most trusted fiat stablecoins available. It was established by Circle, a payments infrastructure provider, and includes other prominent members such as Coinbase and Bitmain. USDC's reserves are attested every month by Grant Thornton, one of the largest accounting firms in the world.
Benefits of stablecoins over crypto
The greatest benefit stablecoins hold over crypto like Bitcoin is low volatility. As long as stablecoins are backed by a robust underlying asset like gold or the US dollar, volatility will be the least of your worries.
Investors can trust their investment won't drop off in value overnight. This is one of the reasons many investors choose stablecoin over other cryptocurrencies – peace of mind. This is not to say investing in crypto like bitcoin is bad. Still, it's generally a riskier proposition than investing in a stablecoin.
Risks of lending stablecoins
With every pro comes a con. Stablecoins may be more stable than their more volatile counterparts, but they still come with their fair share of risks. Stablecoins are still only as stable as the company backing them.
As such, you should only invest what you're willing to lose. Assets in a cryptocurrency interest-earning account should be treated as an investment, not as a savings account.
Furthermore, there are transparency issues to keep in mind. If a less ethical company wanted to pull the rug from under your feet and disappear into the night with your coins, you would be powerless to stop them.
Always do your research before choosing a platform to earn interest in your stablecoins. Thankfully, numerous crypto platforms exist where you can reliably store your digital assets and generate a respectable annual return.
How stablecoin interest accounts work
Knowing what platforms to use is one thing. It's just as important to understand how a stablecoin interest account works. The easiest way to think about this concept is to make the comparison to peer-to-peer lending.
In peer-to-peer lending (P2P), individuals can take out loans directly from one another, cutting out the middle man in the process. In the same sense, your stablecoin interest account will be actively lending your stablecoins out to other users.
The benefit to the account holder is that you will be paid an interest rate. While these rates may vary depending on the platform, the likelihood that you will make more than what you would generate from a traditional savings account is high.
Your cryptocurrency platform of choice charges the end-user, the person on the other side of the glass, a higher rate than what you will be receiving in interest. This is called the spread in crypto terminology, and it ensures you're paid your promised interest rate. It also ensures the platform itself is getting its cut of the action.
What are the best stablecoins to earn interest?
Now let's look at what we consider the best stablecoins to earn interest. There are many to choose from, but we decided to narrow the list down to just a couple of choices for the sake of simplicity. As always, we recommend doing your own research before you invest.
Gemini Dollar (GUSD)
Backed by the popular cryptocurrency exchange Gemini, the Gemini Dollar (GUSD) has a good reputation in the industry. As discussed in the platforms section above, Gemini offers the best reputation for security, regulation, and safety.
GUSD reserves are insured by the FDIC and regulated by the New York Department of Financial Services. Even if Gemini were to go out of business, the FDIC still covered the reserves.
Yes, the trading commissions are expensive compared to their competitors. Still, the Gemini Dollar is as stable as it gets for a stablecoin. This coin brings peace of mind, allowing you to sit back and enjoy your profits stress-free.
USD Coin (USDC)
This stablecoin lives up to its namesake; it's pegged 1:1 to the US dollar. It was founded in 2018 by Circle and Coinbase. Circle is backed by several reputable companies, including Goldman Sachs. On the other hand, Coinbase is the largest cryptocurrency exchange globally.
USDC is operated by highly reputable entities making it one of the safer options to invest in. As of this time, there's over $11.3 billion worth of USDC in the market. Because it's pegged to the US dollar, every coin is backed by USD reserves.
Who should consider earning interest on stablecoins?
As long as you're a crypto investor interested in generating passive income, you can't go wrong by earning interest on stablecoins. It's an excellent way to grow your wealth without having to lift a finger.
Keep in mind that it is a considerably riskier way to hold your savings than, say, a traditional bank account should the company go under, but with risk comes reward. The high-interest rates will guarantee that your coins are working for you and not the other way around.
How to find the right crypto interest account
When searching for the proper crypto interest account for you, there are several factors to pay close attention to. Bear in mind each company behind these accounts is unique. As such, you have to ask yourself the right questions:
What are the terms of service? When was the company founded? How much backing does the platform have? How secure is the platform? What level of security is available to users? Can you sleep peacefully at night knowing your money is sitting in "X" account rather than "Y" account? What insurance do they bring to the table?
How much is the interest rate you can make on your stablecoins? For instance, YouHodler allows you to make up to 12% APY, one of the higher interest rates you can choose from.
On the other hand, Gemini offers a 7.4% APY which may seem sparse in comparison. Still, the level of security provided by the Gemini platform makes it one of the more reliable choices you can make.
There are many factors at play that will affect your overall decision. It's prudent to do your homework to determine which platform is the best fit for you. As long as you know what questions to ask, you should decide on the platform that best suits your needs.
Frequently asked questions
Final words
To sum it all up, stablecoins offer an interesting opportunity to earn respectable annual returns without the fluctuations of crypto. While the best stablecoins out there appear to be a solid investment choice, you should never ignore the risks associated with your cryptocurrency platform of choice.
An increasing number of people are opening their eyes to the potential of investing in cryptocurrency. Many companies are lining up to offer crypto interest accounts that pay daily or monthly dividends.
Ultimately, stablecoins provide a less harrowing investing experience than bitcoin or ethereum, making them the ideal choice for long-term income generation.
As always, consider the risks associated with any investment.