Starlink Availability in Europe: Which Countries Have Access in 2023?
Is your country on the Starlink map? Find out if you can join the space internet revolution sweeping the World
In today's digital age, we all know how crucial the internet is for staying connected and engaged with the world. Unfortunately, many parts of Europe still face challenges with unequal access to reliable internet services. Rural areas, in particular, are often left behind by governments with spotty mobile signals and a lack of decent broadband infrastructure, and some areas still have no internet access at all.
There's a silver lining, though: the emergence of private satellite internet service providers such as Starlink has brought new hope for bridging this gap. Below, we'll explore the availability of Starlink in Europe, talk about which countries have access, and guide you through how to sign up for this innovative broadband satellite internet service. Here's everything you need to know about Starlink's availability in Europe.
What is Starlink?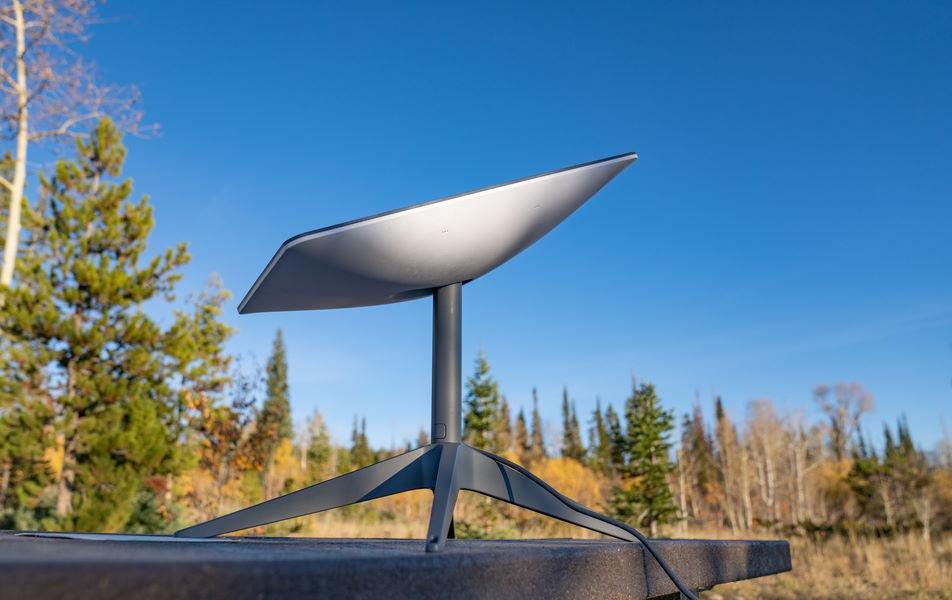 Starlink is a satellite-based internet provider that was launched by SpaceX, a private space exploration company founded by Elon Musk in 2002. The goal of Starlink is to provide "high-speed, low-latency broadband internet in remote and rural locations across the globe" that are underserved by traditional internet service providers or out of reach. This also includes oceans and seas, with Starlink Maritime, and in the air, with Starlink Aviation.
Unlike traditional satellite-based internet services, which usually operate through a single stationary satellite that orbits the Earth at 35,786 km, Starlink works through thousands of mini-satellites that orbit much closer to Earth, at around 550 km, and this produces lower latency, faster speeds, and superior coverage. Starlink also solves the problem of land-based cables, which are limited by geography or obstructed by buildings.
Is Starlink available in Europe?
Yes, Starlink is available in most European countries, with a few exceptions. Starlink first became available in Germany in 2021 and has since expanded coverage to most of the continent, as well as to many of the dependencies. Technically, Starlink has the capability to provide internet to every European country, but its operations are limited in certain countries due to political reasons. As of writing, Starlink is available in the following European states:
Andorra
Austria
Belgium
Bulgaria
Croatia
Cyprus
Czech Republic
Denmark
Estonia
Finland (excl. the Åland Islands)
France
Germany
Gibraltar
Greece
Guernsey
Hungary
Iceland
Ireland
Isle of Man
Italy
Jersey
Latvia
Liechtenstein
Lithuania
Luxembourg
Malta
Moldova
Monaco
Netherlands
Norway (incl. Svalbard)
Poland
Portugal (incl. the Azores and Madeira)
Romania
San Marino
Slovakia
Slovenia
Spain (excl. Canary Islands)
Sweden
Switzerland
Ukraine
United Kingdom (excl. some parts of the Shetland Islands)
Which European countries can't use Starlink?
Starlink is not currently available in Albania, Åland Islands (Finland), Bosnia and Herzegovina, Canary Islands (Spain), Faroe Islands, Kosovo, Montenegro, Serbia, and some parts of the Shetland Islands. However, Starlink is actively working on expanding its service to these countries and areas in the near future.
Timeline of Starlink's availability in Europe
February 22, 2018: SpaceX launches two test satellites for Starlink.
May 24, 2019: SpaceX launches the first 60 production Starlink satellites.
November 2019: Starlink begins beta testing in the United States.
November 2020: Starlink receives approval from the U.K. telecoms regulator Ofcom to operate in the country after granting it an "Earth Station Network Licence".
December 2020: The German Bundesnetzagentur approved Starlink's operations with "spectrum usage rights". The Hellenic Telecommunications & Post Commission authorises the company to operate in Greece.
January: Starlink starts beta testing in the United Kingdom and Northern Ireland.
February 2021: The French regulatory authority, ARCEP, licenses SpaceX to operate Starlink in France.
May 2021: Starlink rolls out in the Netherlands
August 2021: Starlink announces that it has launched over 1,500 satellites and expects to offer global coverage by the end of the year.
October 2021: Starlink officially launches commercial service in Europe, offering internet speeds of up to 300 Mbps.
January 2022: Starlink launches in Spain
May 13, 2022: SpaceX says Starlink is now available in most of Europe
October 2022: Musk sends 25,300 terminals to Ukraine
July 2023: Starlink becomes available in Cyprus
Present: Starlink continues to expand its service across Europe, with plans to offer coverage in more countries, depending on regulatory approval.
How much does Starlink cost in Europe?
Surprisingly, Starlink's monthly subscription fee in Europe varies a lot depending on the country. Based on a review of the check-out pages for different countries, the monthly subscription fee ranged from €49 in the cheapest to €85 in the most expensive. However, the hardware cost of €300 was consistent across all countries. Shipping fees were also approximately the same at €20. Here is a sample of the monthly price in different countries:
| Country | Monthly price |
| --- | --- |
| Romania | €47 (230 RON) |
| Bulgaria | €49 (95.00 BGN) |
| Italy | €50 |
| France | €50 |
| Germany | €65 |
| Spain | €65 |
| Portugal | €65 |
| Poland | €72 (335 PLN) |
| United Kingdom | £75 |
Does Starlink work in the Mediterranean Sea?
According to Starlink's website, its maritime service works in most of the Earth's oceans and seas. One real-world user reported a positive experience using Starlink while cruising down the Italian coast and around the island of Elba, although there were some moments where the connection became sluggish due to obstructions like clouds.
Another Starlink user tested the internet dish while sailing around the Greek islands for his company RebelRoam, which provides WiFi for public transport. He found Starlink's connectivity to be surprisingly good, despite some outages. Several major cruise lines have also partnered with Starlink to offer internet services on board their ships while cruising the Mediterranean.
If you're considering Starlink for your boat, note that the price is significantly higher than on land.
How to sign up for Starlink in Europe
Signing up for Starlink is pretty straightforward, as long as you live in a place where they offer their service. All you have to do is visit their website, type in your address, and hit "Order Now". If Starlink can provide coverage in your area, they will take you to the check-out page. Here, you'll need to enter your shipping information and your name, then click "Update Shipping Address". The final step is to enter your card information and hit "Place Order". Your kit, which includes a satellite dish, WiFi router, and other essential items, should arrive in around two to four weeks, according to Starlink's website. Once it arrives, you can set it up and get started with your new internet service.
FAQs
Does Starlink work in the UK?
Yes, Starlink is available in the United Kingdom. Musk's satellite internet service was given the green light by the UK regulator Ofcom in 2020 and started operating in the UK in early 2021.
Does Starlink work in Germany?
Yes, Starlink works in Germany. The Federal Network Agency (Bundesnetzagentur), Germany's telecommunication regulator, approved Starlink's operations in December 2020.
Does Starlink work in France?
Yes, Starlink is available in France. In February 2021, France's telecommunication regulator, ARCEP, granted Starlink permission to operate on two radio frequencies on French territory. The service was temporarily unavailable for a few months in 2022 due to a challenge submitted by a third party, but it now works again.
Does Starlink work in Italy?
Yes, Starlink is available in Italy. The service has been operational in Italy since September 2021.
Does Starlink work in Spain?
Yes, Starlink has been available in Spain since January 2022.
Is Starlink available in Cyprus?
Yes, Starlink launched in Cyprus in mid July 2023.
Sources
Starlink. "Coverage Map." Accessed May 1, 2023. https://www.starlink.com/