These 4 Countries in Europe Will Pay You To Move There
Escaping to one of Europe's shrinking towns could earn you up to €30,000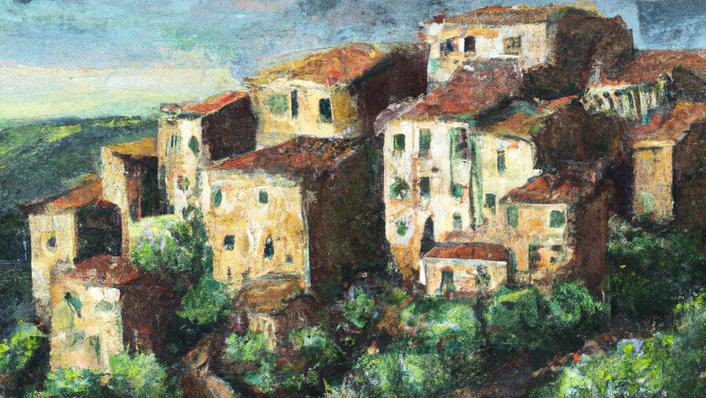 With property prices skyrocketing in the cities, the cost of living reaching new heights, and inflation taking a big bite out of everyone's savings, it's becoming increasingly difficult for many people to make ends meet. According to Eurostat, the statistics office of the European Union, house prices in the EU have gone up by 37% between 2010 and 2021. Rents have also increased, by 16%, while inflation has gone up by 17%. Meanwhile, wages haven't exactly kept up. And let's not forget about the price of our favourite food, pizza, which alone went up by 16% in 2022 — talk about the cost of haute cuisine.
It's tempting to be all doom and gloom about the current state of affairs — especially if you're a first-time buyer – but there's a silver lining for those willing to fight the FOMO and stray off the beaten track. If you're looking for a place where your income or pension won't disappear in a puff of smoke, believe it or not, there are towns, villages, and even whole islands that will pay you €10,000 to €30,000 just to move there. And we're not talking about depressing, brutalist suburbs. No, these are charming, old European towns looking for new inhabitants to revitalise their economies.
Some of these places let you pick up a villa, flat, or townhouse for less than €20,000. Some even offer those 1 euro houses you might have heard of — with a few strings attached, of course. Many of these towns are located in countries that offer some serious tax incentives for foreigners. That's right, you can have your cake and eat it too: they'll pay you to move there, offer cheap housing, and give you a break on taxes. It's the perfect opportunity for those whose work is location-independent, relies on passive income, or are employed in professions sought after locally.
Is this a joke?
No, absolutely not – there really are countries and towns that will pay you to move there. Declining population, dwindling coffers, and vacant properties are some of the challenges these places are typically facing. Over the past 50 years, rapid urbanisation has made multiple generations leave for the larger cities in search of work or education, which has resulted in their ancestral homes being abandoned or handed over to the city because they are left without heirs.
To fight back against population depletion, many cities have developed economic incentives for both nationals and foreigners to increase the local headcount. It's a well-calculated strategic economic decision from their side. The thought is this: by offering cash incentives, free or cheap housing, or tax breaks, cities and countries hope to benefit from their new taxpayers in the long run, culturally and economically.
Is a relocation grant right for you?
The allure of Southern Europe and the prospect of receiving a grant just to simply move there can be tempting, but as with any adventure, it's important to be prepared for what reality brings. It would be great if these opportunities were suitable for everyone. The truth is that people have moved away because they were struggling with a lack of job opportunities. So if you expect to find work locally, it might not be the best idea. However, there are certain professions that could benefit from these programs. Here are some ideal candidates:
Remote workers
Freelancers and self-employed individuals
Location-independent business owners
Doctors and healthcare professionals
Families looking to escape the city's rat race
Pensioners and people living on passive income
Folks seeking a change of pace
But don't let that faze you. These are just some ideas and by no means formal requirements. With determination, creativity, and a little bit of luck, you can find your way to a truly unique and rewarding way of life. Each city has its own unique criteria and requirements, so it's worth doing some research and digging in deeper.
What's the catch?
If you're thinking about taking advantage of these programs, there are some typical requirements you should know about. Here's what to expect:
Employment contract: Most programs require new residents to have a job or start a business in the local community, such as Portugal's rural grant scheme Emprego Interior MAIS (Inland Employment Plus).
Residency: While some programs were once only available to EU citizens, many now welcome non-EU citizens with valid residence permits; however, some programs are still quite restrictive.
Renovation: If they're throwing property into the deal, you'll likely need to invest a minimum amount in renovations. But if you buy on the open market, you're usually free to do what you want. In some cases, the city will provide you almost free housing for symbolic rent, like in the Italian town of Santo Stefano di Sessanio.
Minimum stay: You can't just take the money and run. Most programs require you to stay a minimum of 5 to 10 years – and they're crossing their fingers that you'll never want to leave.
How Portugal, Italy, and Spain compare
Italy has so far come out with the strongest incentives to get people to move there. Every year, new towns are launching their own financial initiatives, usually in the form of non-refundable cash grants or subsidised home purchases, that far outstrip those offered in Portugal and Spain. The bonuses are bigger for one, but if you combine it with the generous tax incentives for new residents and the low property prices in its rural areas, such as the 1 euro homes, it's clear that Italy emerges as the most appealing overall.
#1 Portugal
Portugal's welcoming coastline is where the whole country seems to be heading these days. According to the country's statistical agency, more than half the population now lives in the coastal areas. Meanwhile, only 20% of the population remains in the rural interior. In addition, Portugal as a whole faces the usual challenges of an ageing population and a low birth rate – both of which are particularly pronounced in the interior due to young people leaving for the larger cities. The combination of these unfortunate factors has left shrinking rural towns in desperate need of new residents to keep their economies afloat.
Get paid to move to Portugal's interior
The Portuguese government isn't content to let the countryside wither away. To combat the rural exodus, Portugal is paying up to €4,827 to those who move to certain inland areas under the newly created "Emprego Interior MAIS" (Inland Employment PLUS) scheme. The grant is available to both Portuguese nationals and foreigners who want to set up their lives in the country's interior. To qualify, applicants must stay for at least one year and take up a job or become self-employed.
The grant may not be as large as some Italian cities offer, but it can go a long way to covering your expenses in rural Portugal. In many villages, the amount granted would often be enough to cover the rent of a small house or medium-sized flat for an entire year. You can also explore the option of combining the Emprego Interior MAIS grant with the tax incentives of Portugal's popular Non-Habitual Residence (NHR) tax regime to get a very attractive overall "welcome package".
How to get paid to move to Portugal
To apply for a grant under Portugal's Work in the Interior Programme (Emprego Interior MAIS), visit the programme's official website and review the eligibility requirements. The main condition is that you have a full-time contract of at least one year or that you are self-employed.
If you meet all the criteria, open the document called "Guia de Apoio" ("Support Guide') in the right sidebar. Follow the instructions in the guide carefully.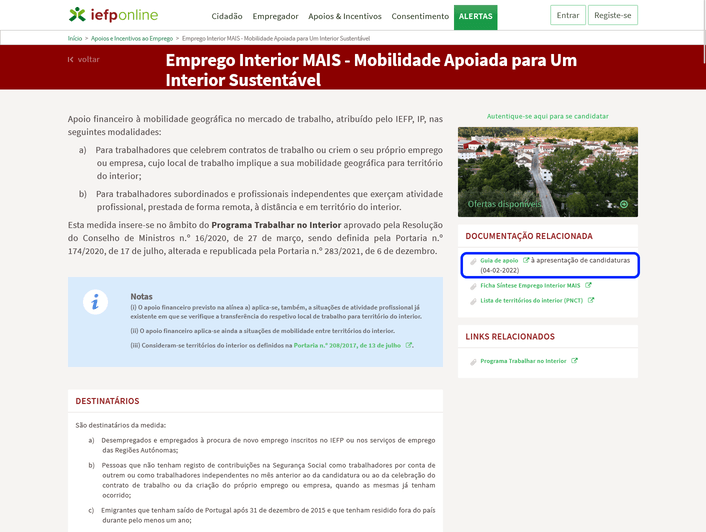 Once you've filled in the fields, uploaded the necessary documents and submitted your application, you can follow the status of your application on the Iefponline portal.
#2 Italy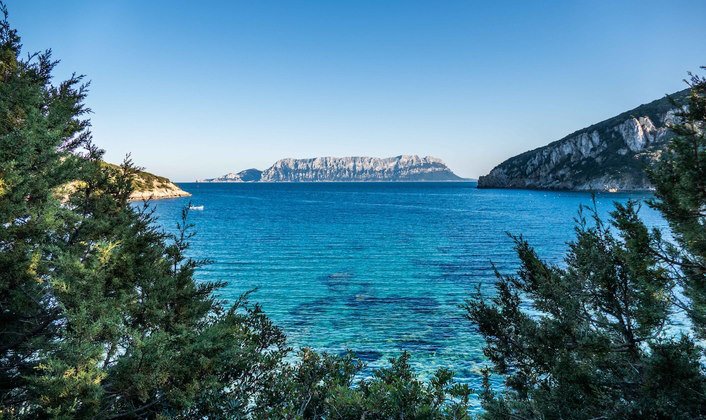 Italy, like Portugal and its other Mediterranean cousins, is facing a demographic crisis. An ageing population, too few babies and generations of young people leaving for the big cities have left much of the Italian countryside depopulated and in desperate need of regeneration. The historically poorer south of Italy has been particularly hard hit by these factors, with centuries-old villages seeing their populations plummet.
In a bold move to reverse the trend, several municipalities across Italy, mainly in the south but with a few outliers in the north and central regions, are now offering generous 'welcome bonuses' to attract new families and revitalise their communities. So what's the catch? You usually have to buy and renovate a house and become a full-time resident of the city. But it's not a bad deal: To give you an idea, a family home often costs less than €25,000.
How to get paid to move to Italy
The Italian towns that are dangling the carrot to lure in new residents aren't just giving them out left and right. There are strings attached, as you might expect, although the specifics can vary from place to place. Generally, though, to qualify for these grants, you need to commit to living in the town for at least a few years and put down roots there by buying a property, starting a business, or working remotely.
Other cash bonuses and tax breaks are available in Italy
There's more to it than just what the individual towns are handing out. The Italian government has a whole palette of tax incentives to entice people to live and work in Italy. For foreigners, some of the noteworthy ones are:
The "Lavoratori impatriati" program, which aims to attract foreign workers and self-employed individuals to Italy by providing them with a 50% to 90% reduction in income tax for the first 5 to 10 years they live and work in the country.
The "Bonus verde" and "Superbonus" incentives provide up to 110% in tax credits for energy-efficient home renovations.
The "Acquisto prima casa under 36" program offers tax breaks for first-time homebuyers under the age of 36.
The "Regime opzionale per i pensionati esteri", a tax regime for foreign pensioners who want to spend their retirement in Southern Italy and pay a flat 7% tax on foreign income.
These are just some of the numerous tax incentives available in Italy you could consider combining with the cash grants offered by the individual towns.
Italy's €1 homes
You might have come across Italy's "case a 1 euro" programme in your research. These symbolically priced homes can be found across the country, from Sicily to Piedmont. Here are just a few of the Italian towns offering this option: Leonforte in Sicily, Ripacandida in Basilicata, Castiglione in Sicily, Chiaromonte in Basilicata, Bonnanaro in Sardinia, and Petralia Soprana in Sicily. Each year, new villages join the programme, and if you're just looking for a holiday home, purchasing a 1 euro house could make a great alternative to the pay-to-move schemes.
Regions and towns in Italy that will pay you to move there
The small town of Candela in Apulia was the first to pay people to move back in 2017. Today, numerous other demographically troubled spots are vying for your attention with similar schemes. From renovation-ready 1 euro homes to ready-to-live-in houses, the options are plentiful. Here are some of the most interesting towns in Italy that will pay you to move there.
1. Sardinia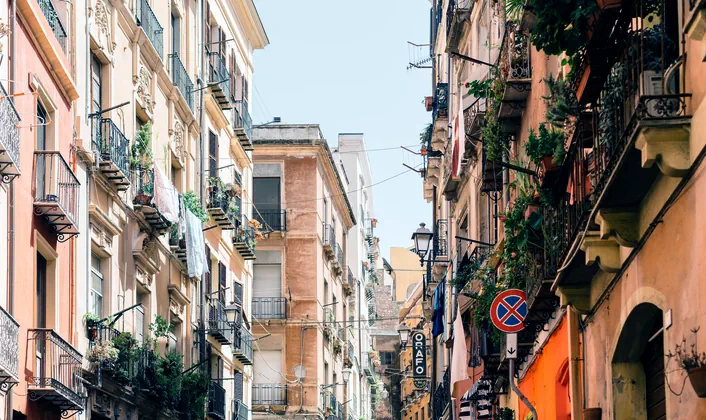 Italy's second-largest island, Sardinia, is offering a relocation bonus of €15,000 to those who move to the island and buy a property in one of its smaller villages. Like in neighbouring Sicily, Sardinia's rural towns are suffering from a population decline, and to address this, the government has set aside €45 million in its budget for the relocation programme, which can cover up to 3,000 individual grants to begin with. There's also a monthly bonus of €600 for every newborn, adopted, or fostered child to support families who relocate to these areas.
According to Sardinian President Christian Solinas, the scheme aims to encourage young families to stay in Sardinia or move to the island. In addition to the relocation program, the region has set aside a total of €99 million in baby bonuses, €70 million to help young families finance their first home, and €120 to companies in the form of tax credits to bring more businesses to the island.
Requirements
The grant money sounds too good to be true, but you need to pay attention to the small print. According to the official website of Sardinia, to qualify for the grant, you must move to a Sardinian municipality with a population of fewer than 3,000 people or transfer your residence to one within 18 months from the purchase of a house or from the date of completion of the works.
The grant must be used towards buying or renovating a home, and the grant cannot exceed 50% of the total cost of the house or renovation. The bonus is per individual (in a family nucleus there may be only one beneficiary). As of writing, there are close to 2,500 properties with three or more bedrooms available in Sardinia for €80,000 or less.
Find out more about the various grants and bonuses on the website of the Autonomous Region of Sardinia.
2. Santo Stefano di Sessanio, Abruzzo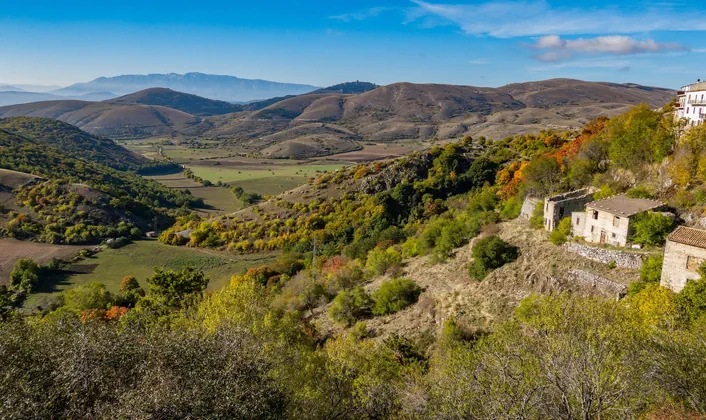 Update: This program has now concluded
Santo Stefano di Sessanio, or Sextantia as it was known during Roman times, is a small hilltop village located in the Abruzzo region of Italy, around 2 hours away from the capital. Despite its charming cobblestone streets and rustic terracotta roofs, its population only counts 115 residents, with only 13 of them being under the age of 20. The local council felt it was "essential" to do something to ensure a "sustainable and lasting development of the territory" to counter the depopulation, according to a mayor's official announcement.
Requirements
The comune of Santo Stefano launched an initiative that offered new residents a grant of up to €44,000 to start a business in the village as well as a property for them to live in–for a "symbolic" rent. The scheme, which attracted a great deal of interest from both Italians and foreigners, was open to EU and non-EU residents with an Italian residency card between the ages of 18 and 40 and who were willing to transfer their residence to Santo Stefano for a minimum of five years.
As the Abruzzo region grapples with population decline, it's highly likely that other municipalities will follow in Santo Stefano's footsteps and launch similar initiatives in the future.
3. Presicce-Acquarica, Apulia
The comune of Presicce-Acquarica, located in the beautiful region of Puglia, the heel of Italy's boot, has launched a campaign to encourage people from the outside to come live in their area: a promise to pay newcomers €30,000 in the form of a grant if they buy a home and move there. The initiative, named "Welcome to Preccice-Acquarica," is designed to breathe new life into the town, which has seen a drop in population in recent years and is now only home to around 10,500 inhabitants.
If you're interested in starting a family in Italy and are looking for a change of pace, Preccice-Acquarica is also offering €1,000 for every newborn in the region as a lure to combat its ageing population. As the saying goes, "ogni scarrafone è bello a mamma soja" (every cockroach is beautiful to its mother), and the town is hoping that new families will see the beauty in their community and be drawn to the warm embrace of their small town with their offspring.
The town hall website will soon release applications for the scheme, though details are still being finalised.
Requirements
To be considered for the grant, you must establish your residency in the southern Italian town and buy a property built before 1991 – which constitutes about 30% of the town's available property mass. The property purchase will then be subsidised by the Municipality of Presicce-Acquarica for up to 50% of the cost, including renovations, with a maximum grant of €30,000. Many well-maintained properties are available in the area for less than €80,000.
Both individual citizens and families who undertake to buy a house in the Presicce or Acquarica area can apply for the contribution.
To learn more about the initiative and see the available properties, keep an eye on the municipality's website. The program has not yet been officially published.
4. Calabria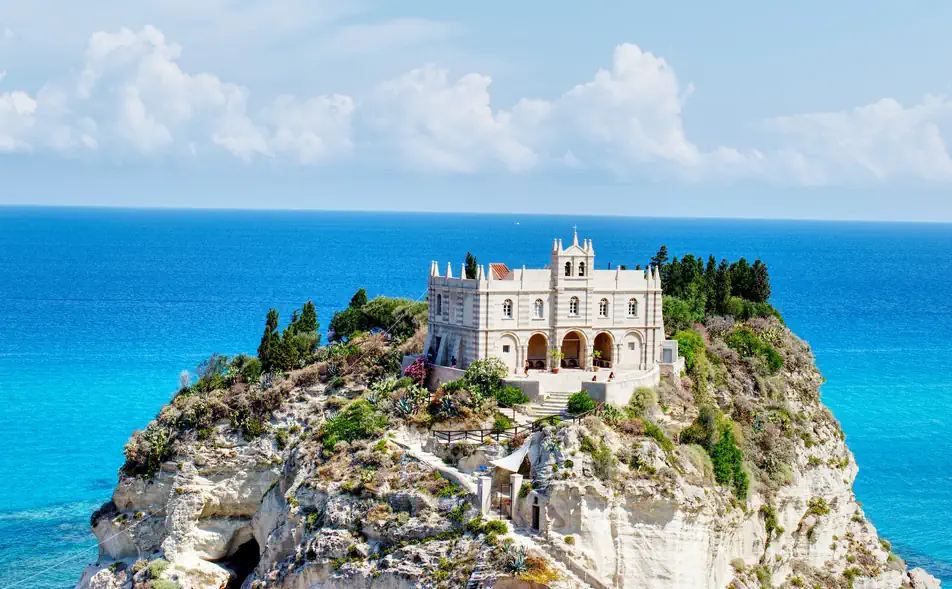 Nestled in the rustic Italian region of Calabria–the toe of Italy's boot–there's a unique opportunity coming up for adventure seekers who are under 40 years old. Calabria's "Active Residency Project", which hasn't yet launched, is set to offer new residents up to €28,000 over a span of two to three years to move to one of its picturesque villages–but there are a few conditions. If you're selected for the grant, you can expect to receive around €1,000 to €770 per month over two to three years.
Here are the Calabrian villages that expect to participate:
Aieta
Albidona
Bova
Caccuri
Civita
Samo
Precacore
San Donato di Ninea
Sant'Agata del Bianco
Santa Severina
Requirements
To qualify for the residency, new residents must either start a small business or work as a professional that is needed within the region. Calabria's officials are hoping to entice younger people to join their communities, so the project is exclusive to those between 18 and 40. Furthermore, you must come from outside Italy or from an Italian municipality with over 2,000 residents. If you're selected for the grant, you'll have 90 days to relocate to one of the participating villages.
Who can apply?
If you're looking to relocate to one of the specific municipalities in Calabria and start a business, you might be eligible to apply for the program if you meet the following requirements:
Be over the age of 18 and under 40 years old;
Establish your residence in one of the participating municipalities in Calabria, with less than 2,000 inhabitants, within 90 days of receiving acceptance for your benefit request;
Be an EU citizen, a non-EU citizen with an Italian regular permit/residence card, or an Italian citizen from a municipality with a population over 2,000 inhabitants;
Keep an eye on the region's website to find out when the project launches.
#3 Spain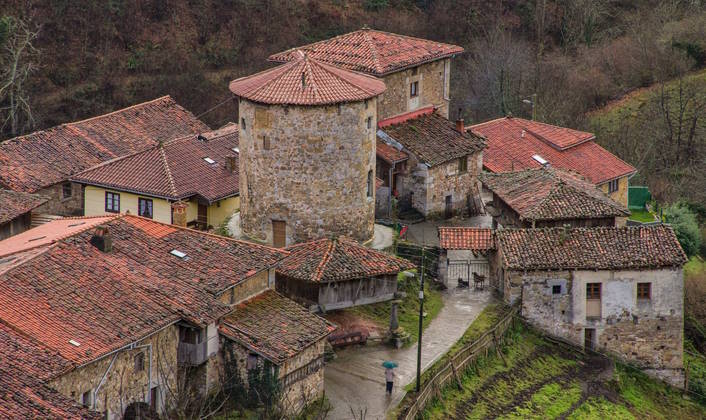 Over the past 50 years, rural Spain has experienced a significant drop in population of around 30%. The young villagers who did not move abroad, along with expats who have entered Spain, have flocked to the coastal cities of Barcelona, Valencia, and the capital, Madrid. As a result, nearly 90% of the country's population now resides on only 30% of the land, leaving the remaining 70% of the country's interior, affectionately dubbed "España Vacia", largely uninhabited.
Sadly, this trend has led to thousands of once-vibrant villages becoming almost empty, contributing to a vicious cycle of depopulation and decline. However, municipal authorities are determined to reverse this trend and breathe new life into these charming pueblos. To stimulate the local economy and prevent people and businesses from disappearing, many have started offering attractive financial incentives such as relocation grants, subsidised rents, cheap or even free housing, baby bonuses, or monthly payments to encourage settlements in these areas.
Here are just a few of the Spanish villages that are offering financial incentives to those who move there.
1. Rubiá, Orense
Located in the province of Ourense in the heart of Galicia lies the small village of Rubiá, which is grappling with a dwindling and ageing population. However, local officials have come up with a plan to buck the trend by dishing out financial incentives.
In an effort to lure new residents, the Municipality of Rubiá is offering between €100 and €150 in monthly aid to families with children who decide to settle in the village. Since the cost of living in Rubiá is much lower than in Southern Spain, it's an option worth exploring for those seeking a more affordable lifestyle in a more temperate climate and picturesque setting.
This picturesque region of Galicia is well-known for its rugged landscapes, Celtic roots, and unique culture, which is infused with the Galician language spoken by the majority of the population. For nature enthusiasts, this is the place to be, as the area is adorned with an abundance of natural wonders, including thermal springs and towering mountains, which offer boundless opportunities for outdoor activities.
To get more information about the program, you can contact the city council by visiting the Municipality of Rubiá's website.
2. Griegos, Teruel
The town of Griegos in the province of Teruel in Aragon, northeastern Spain, has launched a campaign to attract young families to its community. The town currently has only 138 registered residents, mainly elders, and just nine school-age children. To rejuvenate the population and prevent the local school from closing, the town council is offering three rental homes and two jobs for families with children who decide to relocate to Griegos.
The council offers three months of free rent and a monthly rent of €225, from which €50 will be subtracted for each child in the family. Griegos has already received around 3,000 applications from people all over Spain, as well as from Latin America, Croatia, and Romania. Due to the large number of interested parties, applicants must now send a video where they explain why they're the right ones for the scheme. The town council is currently shortlisting suitable families to move in as soon as possible.
The initiative, spearheaded by the deputy mayor, aims to have 11 pupils or more at the local school, which would allow the town to hire an additional teacher. Although Spain's government is working on a serious overhaul of State support for remote rural villages, these initiatives will take time. Villages such as Griegos are seeking quicker ways to keep their headcount up.
Not much information is available on the town hall's website. Those interested in moving to Griegos, however, have to call the city council on the number listed there or just ask the locals to find the mayor if you want to know more about the offer.
3. Ponga, Asturias
If you're seeking a relaxed and peaceful way of life, then Ponga, a small town and municipality nestled in the mountains in the province of Asturias in northern Spain, could be the perfect place for you. With a current population of just 574 inhabitants, the town is eager to welcome new residents and breathe new life into the community.
Ponga is offering families with children up to €3,000, while single people or couples without children can receive up to €2,000. If you have a baby while living in Ponga, you'll receive an additional €3,000 incentive.
Ponga is a quiet and rather uneventful town, so if you're thinking of moving there, it's important to be realistic about what to expect. Additionally, while the grant offered is certainly a nice perk, it's nowhere near enough to cover the expenses associated with moving to and living in the town.
For more information on how to move to Ponga, visit the municipality's website.
#4 Greece
Many of us appreciate Greece for its ancient history, natural beauty, and incredible food scenery, but beneath the captivating beauty we see as tourists lies a demographic crisis: Greece is facing a population imbalance that's reaching a critical point, where a soaring number of elderly citizens are relying on an alarmingly dwindling young population. Furthermore, from 2011 to 2021, Greece lost almost 4% of its population due to young people moving abroad.
Special tax rates in Greece for foreigners
Greece's economy is broken, and while the country is certainly struggling to maintain a balance, not all hope has been given up. In an attempt to turn things around, the Greek government has launched different tax initiatives to bring more people into the country: with preferential tax regimes for foreign pensioners and high-net-worth individuals, as well as generous tax exemptions for workers and self-employed individuals.
Towns in Greece that will pay you to move there
Unlike Italy, where villages are in fierce competition to attract new residents, Greece has been slower to follow suit. Currently, only one place has launched an initiative to invite new inhabitants; however, it wouldn't be surprising if more would follow in the coming years.
Antikythera
Antikythera, a small island northwest of Crete, has launched an initiative sponsored by the local diocese of the Greek Orthodox Church to lure new islanders to its shores. Accepted applicants will receive a monthly stipend of €500 for the first three years, as well as a home and piece of land to call their own. The program is exclusively seeking families who are willing to live on the island and help support the local community.